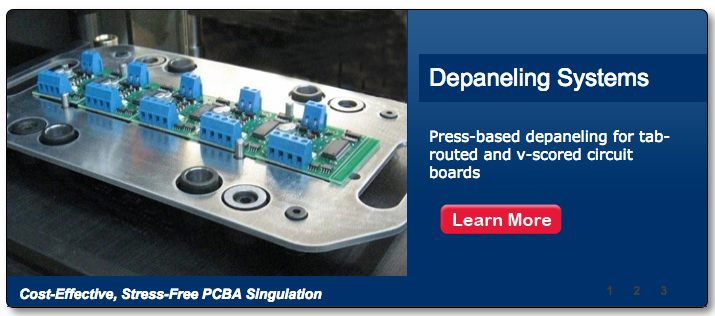 PCBA Depaneling for Tab-Routed and V-Scored Circuit Boards
Pioneer Dietecs offers a complete line of depaneling systems for close tolerance singulating of v-scored and tab-routed printed circuit boards. The Pioneer system is a press-based, stress-free system that includes both dies and presses. Pioneer Dietecs tooling offers the same accuracy as hard tooling for a fraction of the cost.
The Pioneer Dietecs Singulating Process:
Cleaner and more accurate than routing
As accurate as punching with no stress
More accurate, less stressful and quicker than pizza cutters
Singulates both tab-routed and v-scored arrays
Die changes can be made in 30 seconds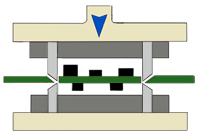 Cost-effective, Stress Free PCBA Depaneling
Pioneer Dietecs' unique depaneling process uses floating die plates. Circuit boards are cut with knife‐edged blades from the top and bottom simultaneously, so all the force is directed between the blade tips, resulting in stress-free singulating.